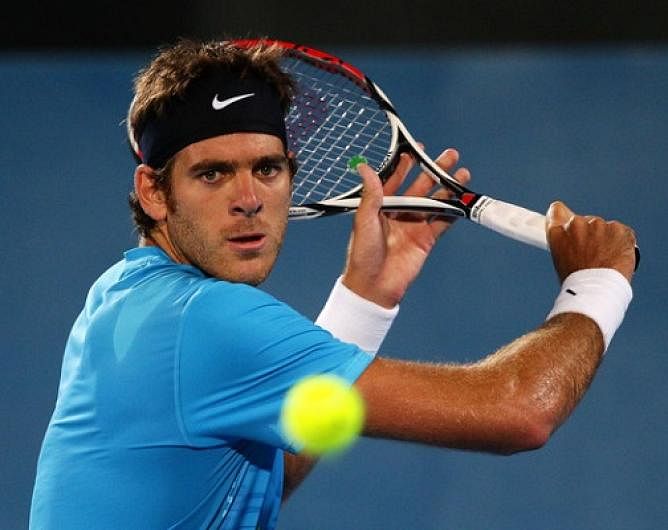 Juan Martin del Potro is poised for a comeback. In 2009, he felled both Rafael Nadal and Roger Federer in the same tournament— the U.S. Open— on the way to becoming champion. If that sounds like a big deal, it is. Nadal and Federer represent two of the most powerful forces in modern tennis, and del Potro is the first to defeat both of them in a major. It was looking like the towering Argentine would prove a foil to the two European powerhouses.
At least, until the injury.
Less than a year after his victory, del Potro underwent the first of four wrist surgeries that has effectively kept him from major competition. His punishing style of play was simply too harsh on his wrists, and he's been effectively sidelined from major competition since that US Open victory. He's only played five matches in almost two years, but now he's looking to compete in his first major ATP World tour match since March of last year. A world ranking of 1,042 isn't stopping him either.
His promising career was temporarily put on hold, and the tennis world is waiting on bated breath to see if the tendons in his wrists will support his brutal backhand and speedy forehand. For him though, it's more about the excitement of being back on the court, playing his hardest for family and friends.
Sports injuries test not only your physical patience, but your mental capacity as well. It's almost completely unrealistic to expect a miraculous return from such a long absence. An athlete needs to again get fully acclimated to the competitive environment and ease back into fierce competition. But if he can play at even a fraction of his pre-injury level, we spectators should be in for an enjoyable ride.
Look for his return tonight at 8 PM, as he takes on American Denis Kudla in the opening round of the Delray Beach Open.